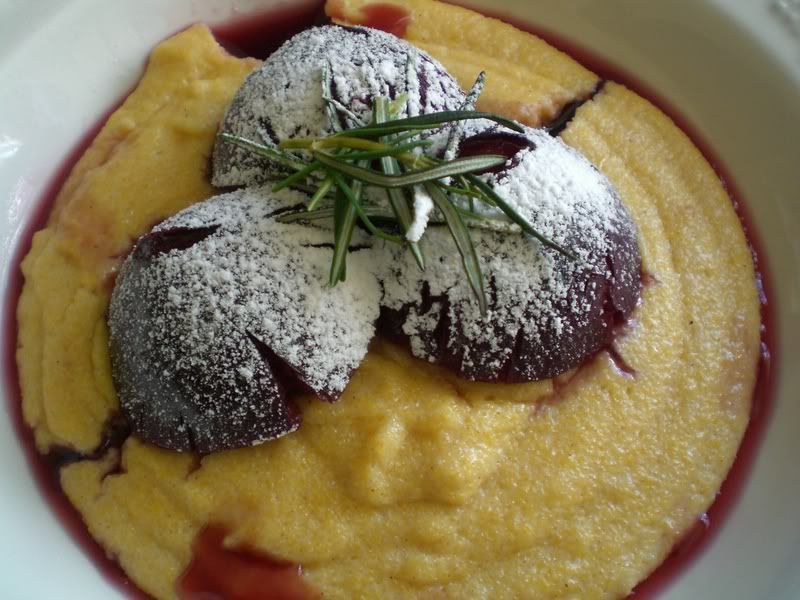 Apart from references to Keats, autumn also conjures up memories of rich, warm puddings. To me autumnal desserts are all about intense burgundy colours and deep flavours. Ideally they can be eaten with a spoon curled up in a large armchair. An open fire is welcome but not required.
The roasted plums are heady with the roasting juices of red wine, vanilla and rosemary. While perfect for savoury uses the rosemary here gives the plums a real aromatic hit and makes them taste as flavourful as they should but sadly haven't this season. They are perfect served with a light cake as in April's Australian Gourmet Traveler or with slices of sheep's milk cheese on a platter but as usual I wanted something more substantial. With it's simple flavours and creamy texture the polenta is an ideal accompaniment and deceptively low fat.
This is also my entry for
Weekend Herb Blogging
hosted by Pat of
Up A Creek Without A PatL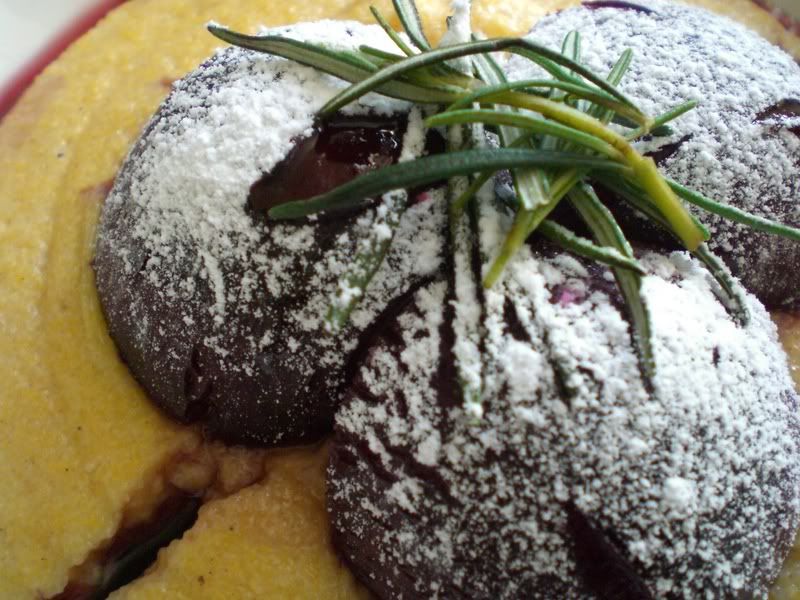 Roasted Red Wine and Rosemary Plums on Creamy Vanilla Polenta
Serves 2
Plums
4 red-skinned plums, halved and stoned
4 sprigs rosemary
1 cup red wine
1/3 cup water
1/3 cup caster sugar
1 tsp vanilla
Polenta
1/2 cup polenta
2 cups milk (low fat is fine)
2-3 tbsp sugar
vanilla (a scraped out pod is best)
Preheat oven to 180C/350F. In a medium saucepan heat the red wine, sugar and water with a dash of vanilla. When reduced slightly take off the heat. Place plums skin side up in a roasting pan and pour over red wine syrup. Roast for 20- 25 minutes.
Whisk together the polenta and a little warm water to make a paste. Heat the milk until warm in a saucepan over low heat. Whisk in the polenta, sugar and vanilla. Cook over low heat, whisking continuously until thickened. If the mixture leaves trails as you whisk through, it is probably at the right texture.
Spoon polenta into serving bowls. Top with plums and a little drizzle of syrup. Sift over icing sugar to serve.