I have recently been far away from my beloved Melbourne but not far away from these soaring temperatures. An Indian winter often ventures onto the wrong side of 30 degrees and this one was no exception. Thankfully it takes more than a little warm weather to reduce my appetite. This is a country where it is difficult to avoid food. A place where it is rude not to offer your guests third and fourth helpings and acceptable practice to heap those extra servings onto their plate despite their protests. This is the country where supermarkets are few and far between but you will find someone selling your staple fruits and vegetables on the footpath.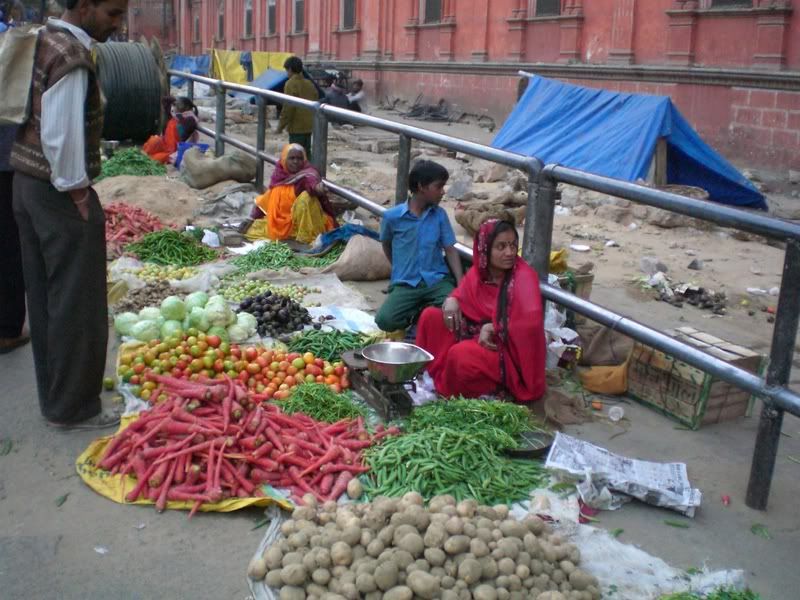 What to See
I began my journey in Delhi, the administrative capital in the days of Moghul rule. In some ways not much has changed with government buildings dominating the landscape and many reminders of the days of the Delhi Sultanate. Well worth a visit is
Humayun's Tomb
, a well preserved Moghul structure surrounded by beautiful landscaped gardens. There is a strange fascination with tombs in this country, the Taj Mahal being another example. As we enter the centre of the structure an eerie silence descends broken by the cries of babies. Their mothers rush them out but those that stay can examine some of the most intricate architecture the Subcontinent has to offer. The inlays of the Star of David on the Islamic tomb are particularly remarkable.
For another exceptional example of Indian architecture visit
Qutb Minar
, renowned for the intricacy of its carvings. You are no longer able to climb to the top of the tower or touch Ashoka's pillar but the sense of history is still pervasive. Ashoka was an Indian emperor whose empire included most of India and spread as far west as present-day Afghanistan. A convert to Buddhism he constructed monuments to mark significant sites in his life. Centuries of people had their fortunes tested by placing their backs to the pillar and attempting to encircle it with their arms from behind. Those that succeeded were destined for happiness.
We quickly learn a lesson that is to be repeated in travels across India- expect to pay several times the admission price for Indians. Given the expense of maintaining these magnificent structures it seems a small price to pay, particularly when converted back to the Australian dollar.
For the true Delhi experience we spend a day in
Old Delhi
. Desperate to escape the traffic and pollution we hop on to the cleanest public transport you'll find in India, the Delhi subway. We begin our tour of Old Delhi by climbing the steps of the
Jama Masjid
. Inside we find women gossiping around the waterhole, pigeons reminiscent of Venice and a stunning Mosque suspended above the city. We are only steps away from the
Red Fort
but it is unfortunately closed for security reasons due to the upcoming Republic Day. Instead we wander the alleyways of
Chandni Chowk
; a colourful bazaar devoted to every Indian ware a tourist's heart could desire. Bargaining is a necessity but as soon as traders hear the Australian accent price increases quickly follow. For some more civilized shopping we hop on the subway back to
Connaught Place
. The white colonial structures that house New Delhi's equivalent of a shopping mall remind us of the country's more recent history.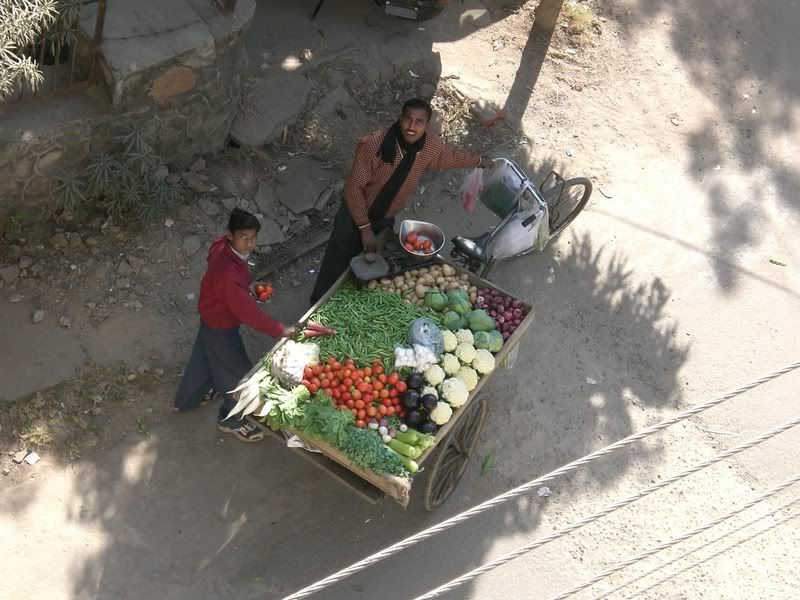 Where to Eat
Chandni Chowk
: Head here for the best
parathas
(stuffed breads) and
jalebis
(warm fried golden cobwebs soaked in sugar syrup). Finish your meal with a fragrant cup of cha served in a terracotta cup to be smashed upon consumption.
Paratha sellers in Chandi Chowk

ITC Maurya Sheraton
: Ideal for the more cautious traveller seeking out Moghul cusine. Indian kebabs are not the shavings of meat we're used to back home but include any marinated meat, poultry or paneer cooked in the tandoor or over charcoals. Not to be missed is the
raan
(lamb leg kebab marinated in yoghurt) and the
kakori
. This is the most delicately spiced, meltingly tender meat you will ever taste. The tale goes that the dish was commissioned for a toothless king. The true recipe has been lost with time but this is a dish not to be missed.

Chefs at the Sheraton Maurya
From Delhi I ventured onto Jaipur, Agra and Calcutta but for those that can only visit one Indian city or are seeking a base from which to explore others, Delhi is your place.